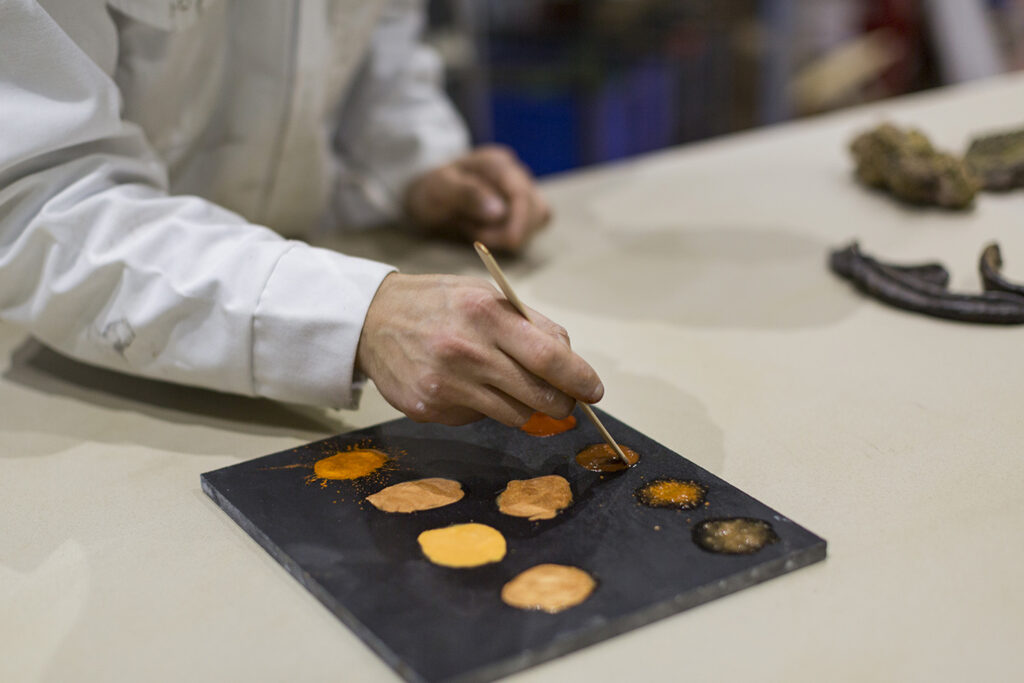 Caesarstone var pionjär när det gäller arbetsytor av kvarts för hemmet, och har legat i framkant när det kommer till skivor i sten sedan 1980-talet. 
Under denna tid har företaget kontinuerligt förnyat både estetik och prestanda, men vad är processen bakom utformningen av en prisbelönt skiva från Caesarstone?
In the early development of porcelain and quartz work surfaces, emphasis was on the technical benefits of the materials over marble or granite. Compared to solid natural stone, engineered stone has a much-improved resistance to temperature changes and chemicals, giving it a distinct advantage, especially for use in kitchens. It is stable, easier to clean and highly resilient, unlikely to crack, discolour or change in appearance as it ages. This is still an integral part of our core principles today, including our range of outdoor surfaces.
De första skivorna av konssten var i allmänhet platta, i monokroma färger och med liten visuell attraktionskraft, men Caesarstone har alltid strävat efter att gå bortom detta enhetliga tillvägagångssätt när det gäller färginspiration till köket. Genom att investera i både design och forskning har varumärket kontinuerligt kunnat återuppfinna de estetiska kvaliteterna hos skivor av konststen, till områden som aldrig tidigare varit möjliga inom köksdesign.
With the launch of the Supernatural Collection, the difference was stark. Whilst other surfaces may have looked to mimic or imitate a specific stone sample, Caesarstone's approach was revolutionary. Rather than simply copying a natural stone, the brand's design team, led by Mor Krisher, took a far more interpretative approach.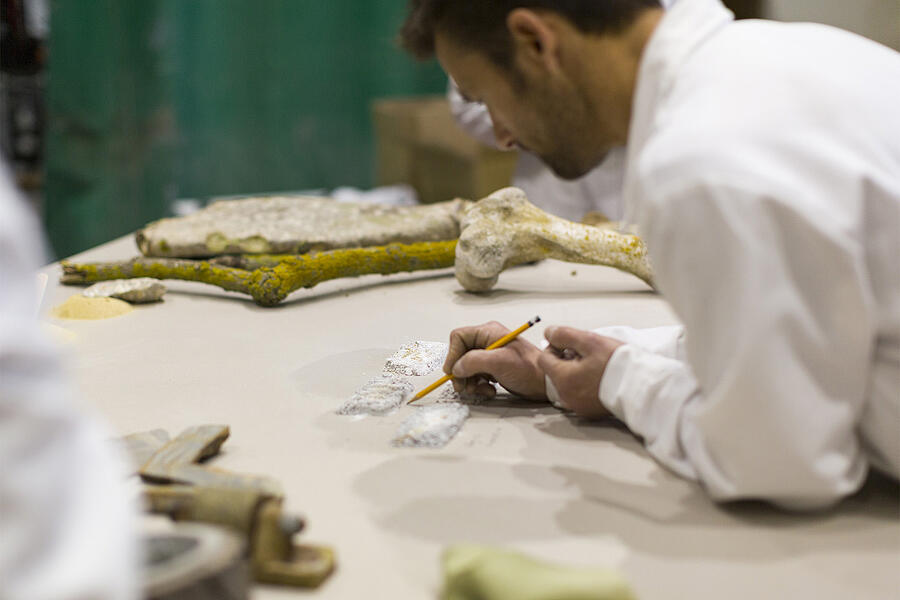 The Supernatural Collection, now comprising 38 designs, took broader influences than simply stone, pushing the boundaries of kitchen colour inspiration. Whether it is the study of nature, such as the form of a branch or root structures in trees and plants, or an examination of the subtle variations in colour tonality that serve to draw the gazes of the homeowner, and of course any guests they may be hosting, there is a story and design journey behind each Caesarstone surface, as Mor explains:
"When designing a Supernatural product, we explore qualities from different natural stones, as well as wider materials that we are drawn to, combining these features and working on the nuances of the design for many months until we are 100 per cent happy. The result is a beautifully natural-looking product that can't actually be found in nature. My aim is to give homeowners something unique that can't be found anywhere else."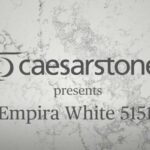 This rich understanding of the subtleties of kitchen design is most obvious in the Whitelight Collection of worktop surfaces, which are eight elegant twists on classic marbles, offering the luxury and elegance one expects from a natural stone, yet, each with its own signature looks that are unique to Caesarstone.
"We endeavour to absorb ourselves in this external environment wherever possible, as the complexities of our geography provide visual cues and drive us to explore new ways in which we can design surfaces for the home that embody these influences. As we all seek a greater connection with the outside, we see the Whitelight Collection as a beacon of hope, a visual reminder of the world around us and a focal point for the very heart of our homes."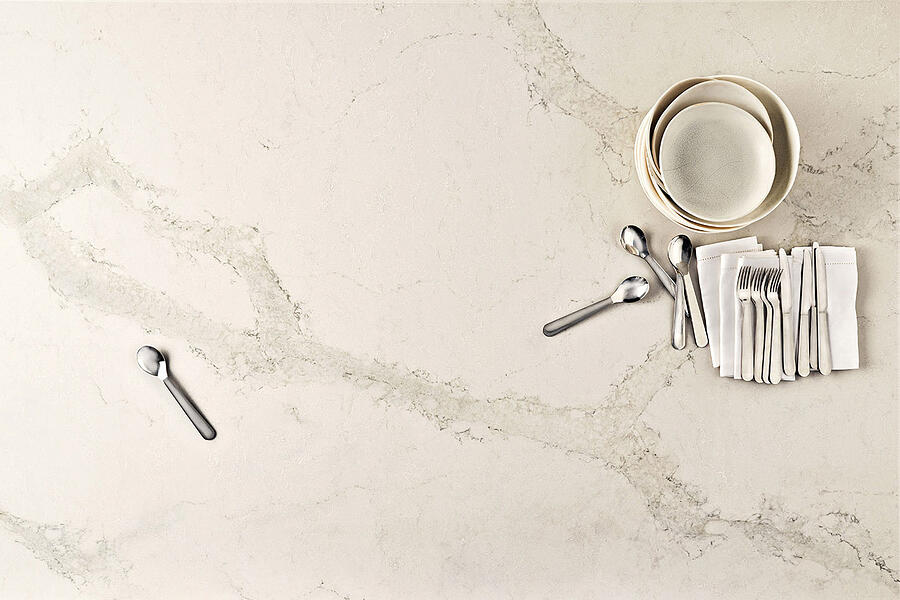 Caesarstone's kitchen design pedigree was reaffirmed with the launch of the Metropolitan Collection in 2018. Working closely with leading kitchen colour inspiration and trend forecasters, Caesarstone predicted the rise of urban and industrial aesthetics in domestic interiors.

"I love concrete, particularly the blend of colour, tones and texture, yet it is a very impractical surface for a homeowner's kitchen worktop. In contrast, the Metropolitan Collection captures this unique cutting-edge aesthetic and tactility, for the first time in quartz and porcelain, yet demonstrates the same easy-care qualities found in every Caesarstone surface", explained Mor. The response was overwhelming, with the Collection winning a much-respected FX Award, which rewards the best interior design products, in 2018.

Much like the Supernatural Collection, inspiration for these ground-breaking surfaces are often broader than may be initially thought, and sometimes surprising. For 4033 Rugged Concrete, the breakthrough product in the Metropolitan Collection, one of the design team's key references was a watercolour painting of the moon.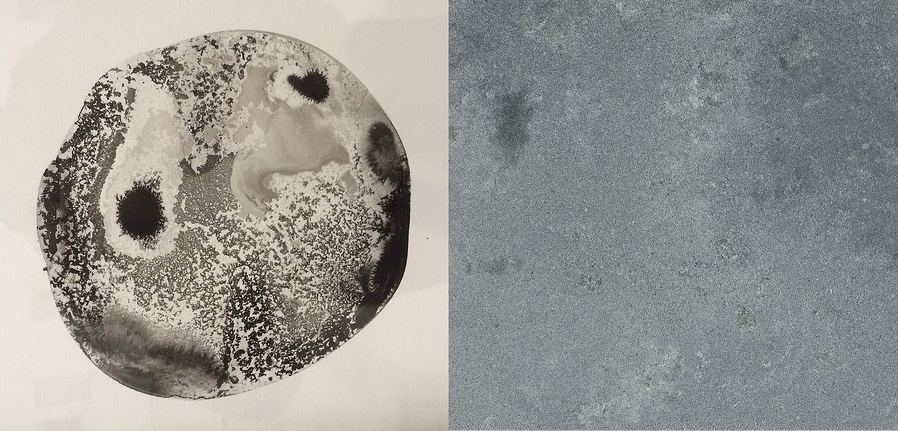 Mor förklarar: "Målningen fångade verkligen månens skrovliga yta. Vi tittade på en 2D-bild som konstnären hade väckt till liv i 3D med hjälp av de mest underbara, skickliga och tekniska penseldrag. Blandningen av vitt, grått och svart var så subtil. Den formade verkligen hur vi tänkte och hjälpte oss att sätta riktmärket för vad vi ville uppnå."
This explorative approach to design, looking for inspiration beyond the obvious, continues with the most recent addition to the brand's Metropolitan Collection, 4735 Oxidian. This unique conceptual design characterises the blurred borders between the natural elements and industrial environments; how natural materials can look industrial, and when man-made materials rust or decay and take on an organic appearance.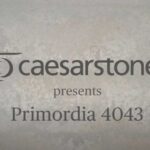 Det är detta ständiga engagemang för innovation som gör att varje Caesarstone-design är unik. Produkten går igenom en lång kreativ resa som resulterar i en yta som fungerar som en grund för oss att skapa engagerande utrymmen i våra egna hem, som Mor uttrycker det: "Jag tror att Caesarstone spelar en roll när det gäller att skapa miljöer som inspirerar, som kopplar oss samman med naturen eller som ger oss den taktila känslan som är så viktig för oss som människor."
With this in mind, we've gone a step further in looking beyond the boundaries of our interiors to truly reconnect with the outdoors. As we look at our homes as a whole, Caesarstone has expanded beyond the realms of the indoors to recognise the growing importance of our outside spaces. A huge significance is placed on the value of outdoor space; our gardens, balconies and terraces are the sanctuaries we escape to for personal reflection and tranquillity, and for entertaining and socialising. The Outdoor Collection has been designed with elevated outdoor living in mind and extends the possibilities of kitchen design to our cherished outside spaces. The inspiring outdoors range of stone work surfaces has been curated to elevate any exterior area and transform it into an enjoyable environment all year round.